My husband is blissfully unaware of the idea that is brewing in my head - I want to move into his office. In our bedroom I have the beautiful Hickory Chair desk pictured below in a creamy white finish. It's used as a vanity.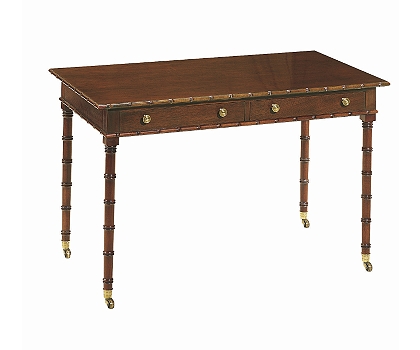 Contrary to what my husband believes, I do not have a single space to myself. (Yes I decide on all of our home decor but that's not the same thing.) In fact, I write this very blog from a big old comfortable leather chair in our family room. Having a dedicated space for all of my papers, laptop, projects, etc. would make life so much easier and organized.
My husbands response to this idea will likely be, "how much is it going to cost me and how much time is it going to take?" Well good news honey - I found a few inexpensive contenders. Plus I have 2 parsons chairs that will work nicely as desk chairs once I recover them. Additionally, we already completed two tasks -repainting the walls and buying a new rug - so we are half way there.
What inspired this idea? My Covet du Jour -
Lonny's
new office space - no cubical walls here! The fresh and eclectic decor make it feel more like a stylish apartment than an office.
I am sure this is just a pipe dream, but one can always hope...
Cheers!
Elizabeth
"Simplicity is is ultimate form of sophistication." ~ Leonardo da Vinci