Living in a house of all boys, I am always on the lookout for decor that suits them (in moderation of course and confined to the boy's bedrooms and my husband's office.) Love this grouping of framed flags. Darling over a boys crib or bed, right?
For sale on On Kings Lane today. Click
here
.
Maybe whitewashed walls or a natural color seagrass wall covering? I also love this
Thibaut
wallpaper, available in a number of colorways. It's sort of reminds me of the kitschy cowboy wallpaper of the 1950's and 1960's. I would recommend a "non-coordinating" fabric to give the room a little more depth and personality. Mix some painted and stained furniture with classic and modern pieces and you've got a great little boy's room or kids bedroom for you beach house.
Phoebe Howard
Liz Caan Interiors
Elizabeth Dinkel & Karyn Millet Photography
Ashley Putnam
This Map Room, I found in
Traditional Home
, is great inspiration as well. I love the hand painted map on the wall by Brian Nelson. I reminds me of "The Map Room" post from
Little Green Notebook
.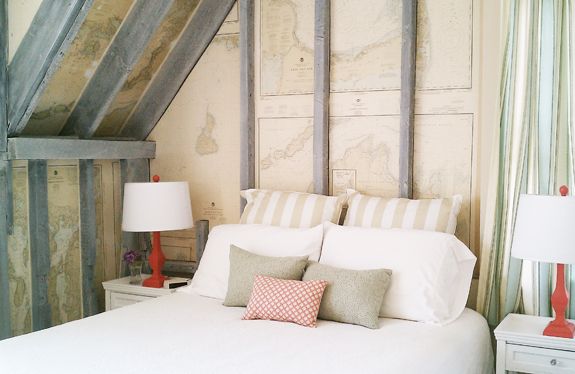 Cheers!
Elizabeth
"There are times when words seem empty and only actions seem great. Such a time has come, and in the Providence of God America will once more have an opportunity to show the world that she was born to save mankind." ~ Woodrow Wilson