No projects completed today, but here is another sample on my project list that we discussed
yesterday:
paint the dining room table and chairs. If you recall
this post
, we had a little candle mishap and now there is dinner plate size burn mark on the dining room table.
For nearly a year, even before the "fire", I've been toying with the idea of liming the chairs (or table) and painting the table (or chairs) a bright glossy white (and drooling over the pictures you're about to view). Currently, the furniture is black. My table is a traditional design and the chairs have a "X" back. Anyone have advice on liming painted furniture? The table and chairs below are my inspiration. The room was designed b
y

Donna Benedetto for a show house in Weston, CT. Pictures via

Chinoiserie Chic.
LOVE the fabric on the chairs!!!
I have a beautiful antique fruit wood table, that's actually a nightstand, in one corner of the room. On the table is a lamp and orchid. Hanging over the table is a small brass convex mirror. I believe one piece of darker wood furniture grounds a room.
Check out the beautiful stencil on these walls...
My dining room walls are painted Benjamin Moore Navajo White and the trim is Ben Moore's Decorator's White. I've be longing to paint stripes or stencil a pattern in white.
This stencil, available on Etsy,
would be pretty fantastic.
Sadly, no plans for a mirrored insert border in my ceiling, but there is no harm in admiring such a lovely detail...
I have silk ivory drapes - perhaps I need to add some trim?
This sideboard is the perfect contemporary touch!
My china and crystal are housed in
this piece
, but in a white finish
I have a large print of this colorful Audubon in a gold bamboo frame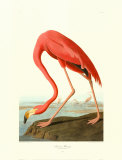 which is hanging over
this table
that is set up as a bar.
Under the dining table is a neutral colored rug, which I would love to replace, but no substitute found yet. A lantern that I spray painted gold hangs over the table. On the largest wall hangs three prints similar to the one below (but different frames) that I bought years ago at Random Harvest.
This picture is a bit faded -The coral are much brighter in person.
If I had my camera (that's at the top of my to-do list) I could have saved myself a lot of typing. I promise - no painting of the table, chairs or walls until the camera is purchased and I can document the process.
That's it for now. More "To-Do List" projects tomorrow.
Cheers!
Elizabeth
"No animal should ever jump up on the dining-room furniture unless absolutely certain that he can hold his own in the conversation." ~ Frank Lebowitz